Delicious Pasta Recipes That Will Make You Say Mamma Mia!
Classic Italian goodness simmered in mouth-watering flavours that taste like home. Dig into the heart of good food: pasta made to perfection — a true universal delight. Buon appetito!
Start Your Day With the Taste of Italy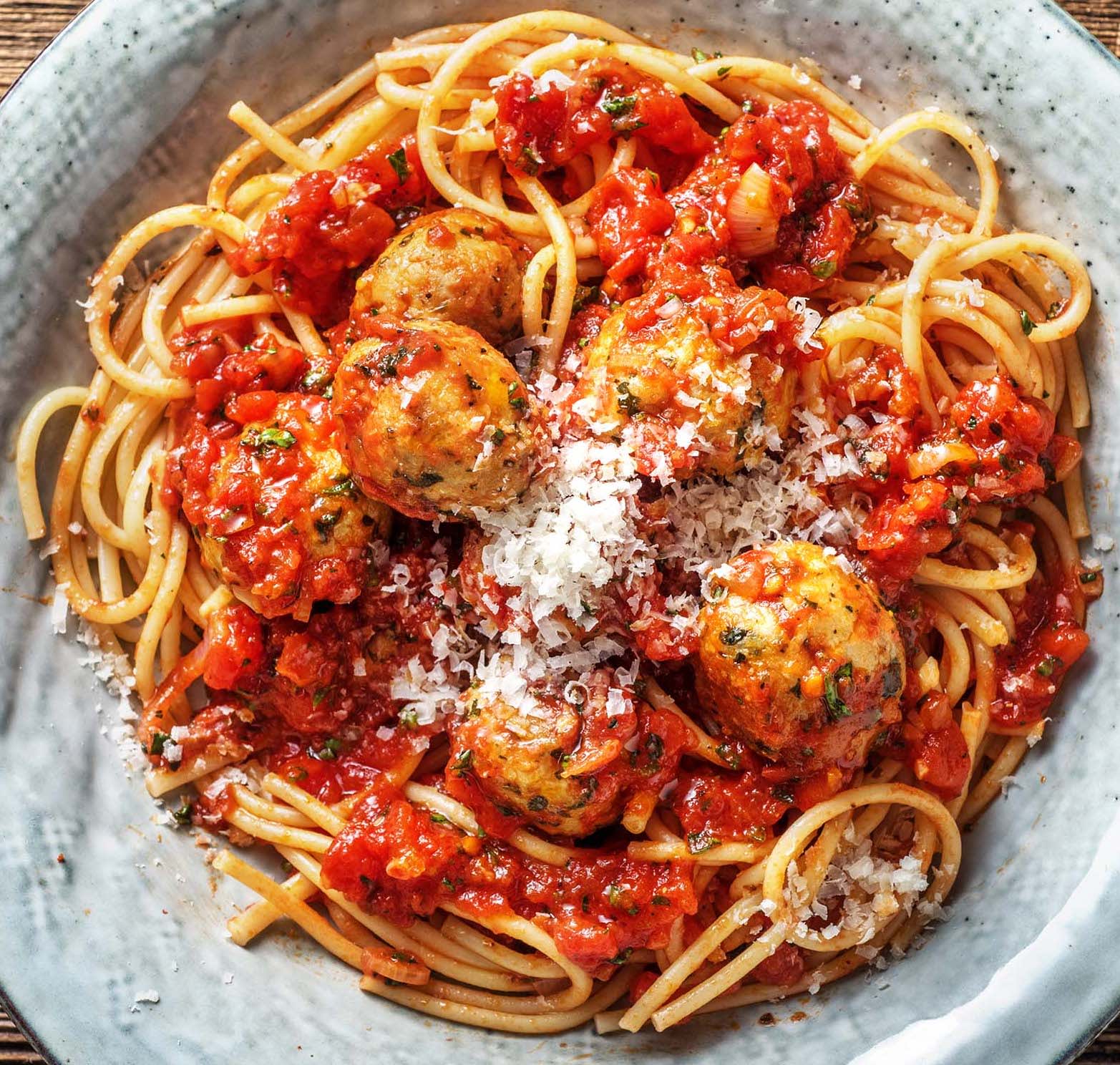 Mamma mia! It's pasta time!
Want a taste of Italy? Experience the flavours that make up its scenic, storied streets and generations of delicious cooking loved all around the globe. Nourish the body and feed the soul with each hearty bite that takes you to the heart of signature Italian taste.

A star on its own, infused with meaty or veggie goodness, or on the side of a prime protein — pasta makes the perfect meal. Embark on a culinary adventure that gives you a little taste of Italy in every bite. But what's better than going to Italy for a heaping plate of spaghetti? Getting a taste right at home, when you recreate the magic in your kitchen with signature pasta recipes.

Red sauce or white sauce? One-pot cooking hack or baked in gooey, cheesy goodness? Long, twirling spaghetti and fettuccine or the artful layers of lasagna? With pasta, the possibilities for good food and good times are endless, guaranteed to satisfy your every craving. From homemade classics to five-star-worthy creations and fun, must-try fusions, there's a pasta recipe perfect for any occasion — and even just every day.

Looking for your next pasta dish? Cook your way through an endless list of the most popular pasta recipes. Rediscover homemade classics passed down from generations, or add a twist to all-time favourites like baked spaghetti, penne alla vodka, cacio e pepe, fettuccine alfredo, and more. Get your fix of this beloved Italian classic right here.

Canada's Top Pasta Dishes Based on Total Online Searches and YouTube Searches
Like you, many Canadians are craving a taste of Italy. Just take a look at the trending pasta recipes Canada can't get enough of and eat with gusto. From classics like fettuccine alfredo and spaghetti and meatballs to healthy twists like eggplant lasagna and vegan pasta, and must-try fusions like smoked salmon pasta and cheeseburger pasta skillet, there's a heaping plate for your every craving. Find your next pasta creation among Canada's favourites:


Fettuccine alfredo 18800
Cacio e pepe 13100
Chicken alfredo 12550
Penne alla vodka 6900
Baked feta pasta 6600
Spaghetti and meatballs 6100
Homemade pasta 5850
Baked spaghetti 4460
Chicken fettuccine alfredo 4440
Baked spaghetti squash 4400
Eggplant lasagna 3800
Chicken alfredo pasta 3660
Pasta fagioli 2950
Pasta e fagioli 1970
Chicken carbonara 1960
Pasta puttanesca 1630
Smoked salmon pasta 1610
Spinach lasagna 1610
Lasagna roll-ups 1600
Shrimp fettuccine alfredo 1340
Beef ragu 1310
Bucatini all'amatriciana 910
Chicken alfredo sauce 880
Fettuccine alfredo ricardo 880
Spinach ricotta lasagna 720
Chicken alfredo penne 720
Pasta pomodoro 720
Pesto spaghetti 600
Chicken alfredo lasagna 590
Lasagna with cottage cheese and spinach 590
Baked spaghetti casserole 480
Lemon ricotta pasta 480
Fettuccine alfredo poulet 480
Instant pot spaghetti and meatballs 480
Spinach and ricotta lasagna 480
Chicken alfredo pizza 390
One pot spaghetti 400
Vegan fettuccine alfredo 400
Recette fettuccine alfredo 390
Ravioli lasagna 400
Baked spaghetti and meatballs 390
Vegetable pasta salad 390
Chicken bacon carbonara 320
Lasagna with cottage cheese and spinach 320
Vegan eggplant lasagna 330
Feta baked pasta 320
Bucatini cacio e pepe 260
Crock-pot spaghetti 260
Zucchini lasagna roll ups 260
Best spaghetti and meatballs 260
Penne alla vodka with pancetta 210
Keto eggplant lasagna 210
Ravioli soup 210
Baked spaghetti with cream cheese 170
Slow cooker spaghetti and meatballs 170
Penne alla vodka with bacon 170
Italian spaghetti and meatballs 170
Cacio e pepe pasta 170
Pasta al pomodoro 140
Pasta alla puttanesca 150
Baked shrimp scampi 140
Penne alla vodka with chicken 140
Smoked salmon pasta jamie oliver 110
Chicken and bacon spaghetti carbonara 90
Chicken and leek carbonara 90
Perfect chicken alfredo 90
Beef ragu pappardelle 90
Easy homemade marinara 70
Pumpkin alfredo pasta 40
Cacio e pepe potato gnocchi 30
Kale pesto chicken pasta 30
Cheeseburger pasta skillet 20
Orecchiette with broccoli rabe 20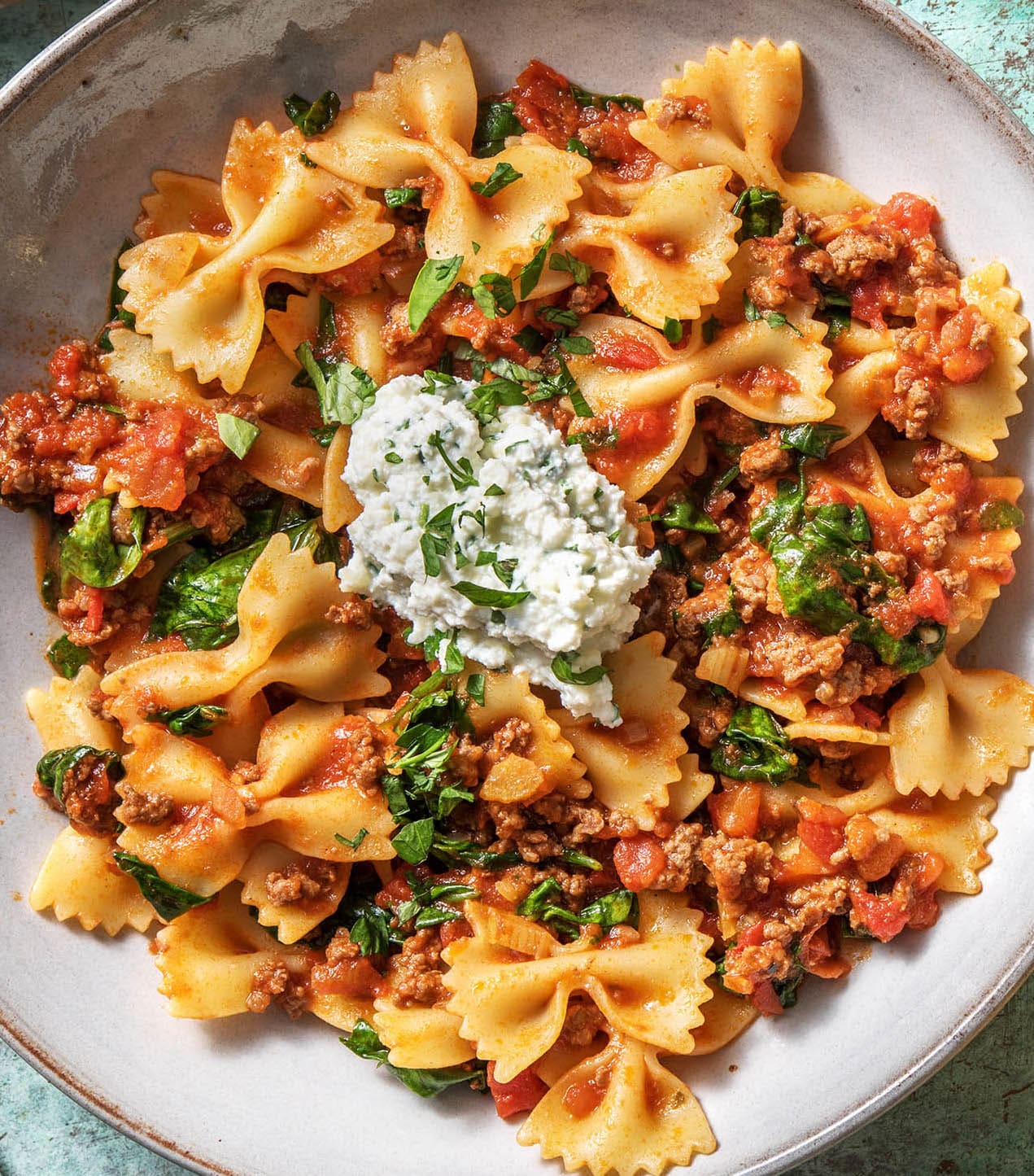 Explore a Wide Variety of New and Exciting Pasta Recipes
How do you like your pasta? With an endless supply of pasta varieties and flavour combinations, there's always a new recipe to try. Refresh your repertoire of the classics, and discover new ways to enjoy this hearty treat. Explore a range of pasta shapes and sizes cooked al dente, paired with the most divine sauces, cheeses, herbs, and proteins.

There's a world of pasta to discover, eat your way through, and keep coming back for more. It's time to take your love of this signature Italian creation beyond the homemade classics. With an appetite for Italian culinary adventure, HelloFresh offers the widest variety of pasta recipes to try and satisfy your every craving. From classic red and white creations like spaghetti and chicken alfredo to eggplant, spinach, and ricotta lasagna, seafood fusions, vegan alternatives, skillets, casseroles and more, get ready to indulge your love of pasta.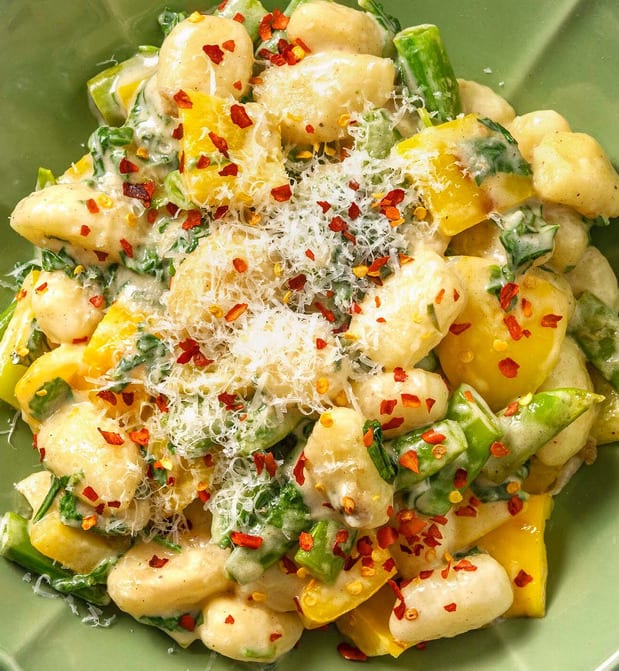 Healthy Pasta Ideas for a Veggie-Packed Boost
The carb you can't live without and love in all shapes, sizes, and sauces, now made healthier and more balanced than ever. That's right — pasta may be a dense carb, but it doesn't have to be all carbs and just carbs.

Did you know that pasta can be made healthy too? Take the guilt out of every bite with fun, fresh takes on this indulgent delight. From low-calorie veggie creations to vegan reinventions, get the best of flavourful, al dente delight in heart-healthy pasta recipes.

Looking for a healthy twist to your bowl of spaghetti or lasagna? Your favourite veggies and pasta go well together, giving you a nutritious boost while satisfying your every craving. Try an eggplant lasagna for a wonderful balance of textures and flavours, or add healthy greens like spinach to a ricotta or cottage cheese lasagna filling. For a bolder twist, try fun, new takes like zucchini lasagna roll-ups, kale and pesto pasta, and vegan fettuccine alfredo. And if you're going all-in for the veggies, you can't go wrong with a classic vegetable pasta salad.
Pasta - the Perfect Foundation for a Nutritious and Satisfying Meal
From the moment marinara sauce simmers on the stove or cheesy lasagna bubbles in the oven, to every heavenly mouthful, feel transported to the heart of Italian cooking. With their perfect combination of rich flavour and aroma blended into al dente delight, the best pasta is everything you need in each bite and unforgettable meal.

The best pasta has it all for you: delicious satisfaction and a healthy boost. Get your daily dose of carbs to fuel your day, and add a healthy twist to your pile of spaghetti or forkfuls of fettuccine. With its balanced content and endless flavour possibilities, there's a perfect plate of pasta for every meal and every taste. Celebrate your love of pasta — and a life well-lived, enriched by every nutritious and satisfying creation.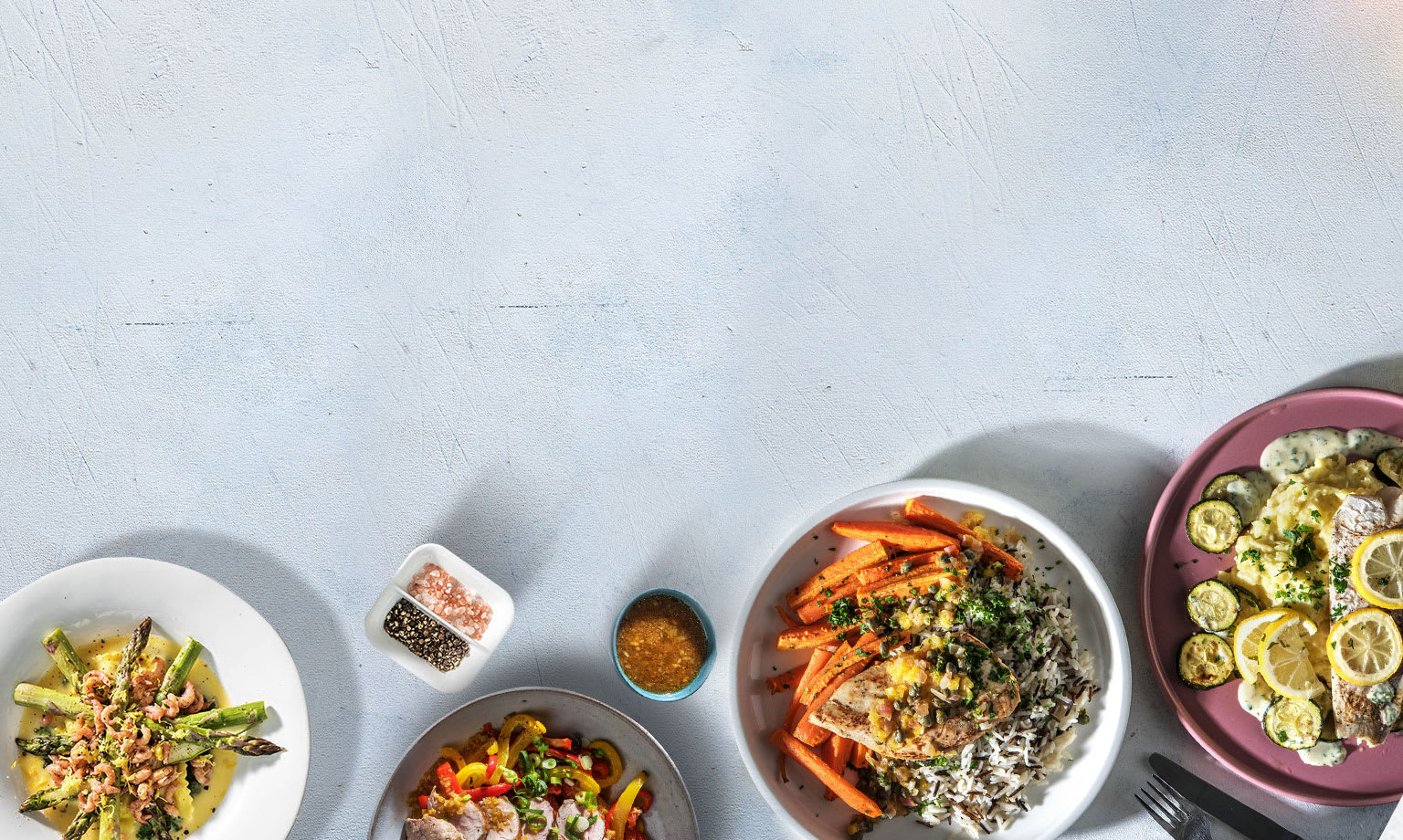 Recipes you'll love!
Get delicious recipes and all ingredients fresh on your doorstep every week!
Save up to $140