Canada's Favourite French Fry Recipes
Deliciously deep-fried to golden brown perfection, fries are a great companion to just about any meal, from charcoal-grilled burgers and sandwiches to juicy steaks and crispy fried chicken.
Top French Fry Recipes in Canada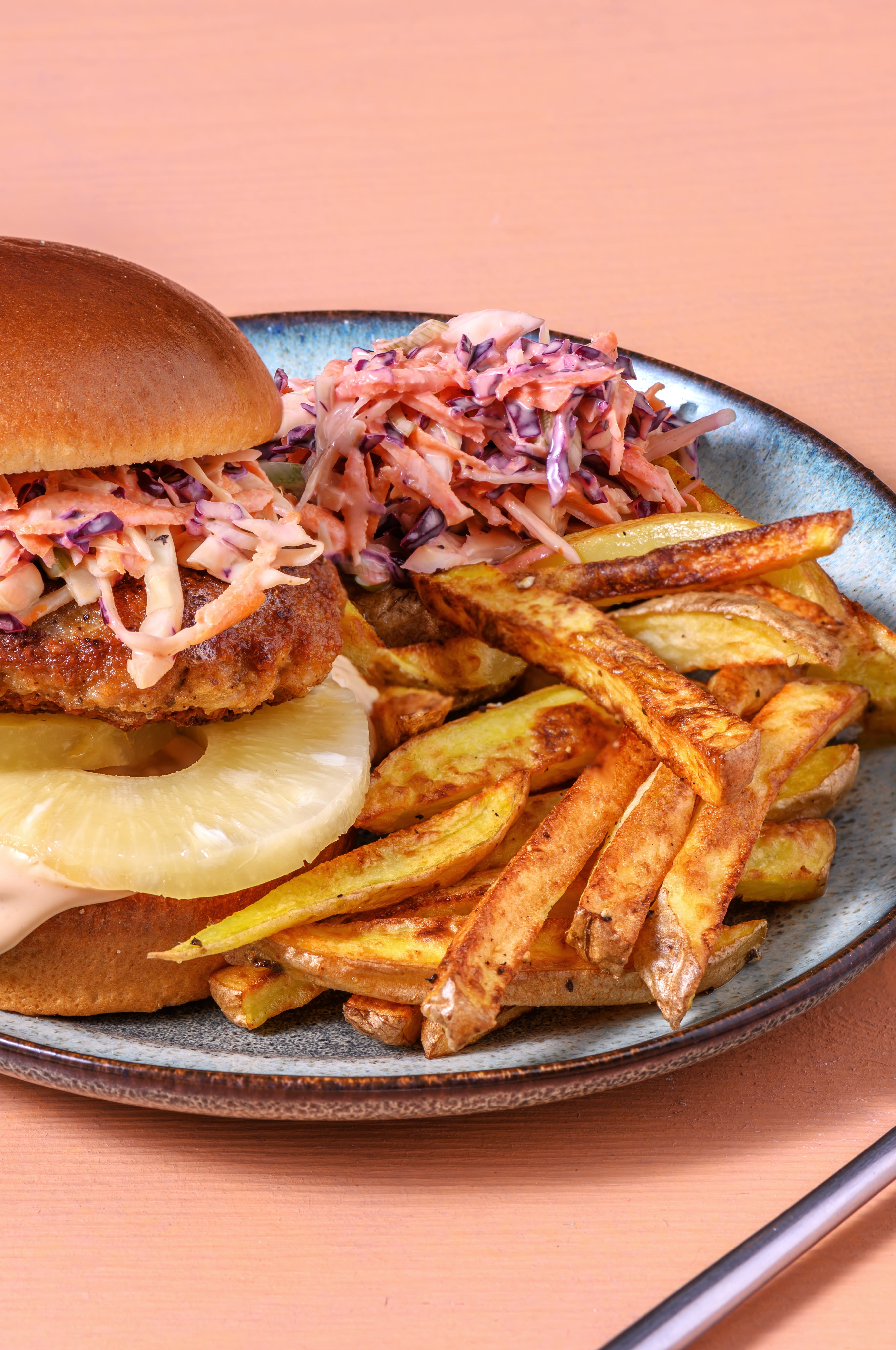 How do you like your french fries?
There's a fry for every occasion and every meal. Fries are some of the world's favourite foods because they're quick to prepare, available pre-cut in the frozen aisle, and versatile. And while for the true Canadian at heart, nothing beats our world-famous poutine with its balanced mix of fries, warm gravy, and cheese curds that feel like home, there's no shortage of ways to enjoy these light and crispy golden brown treats.
Fries really are a universal food, ranging from sides and snacks, to a hearty main course, and a meal on their own. And there's more than one way to enjoy a heaping pile: there's the classic cut to indulge with ketchup, curly twists, cheese and garlic flavoured bites, and even heart-healthy alternatives like sweet potato fries. Whether you like them classic or jazzed up with condiments like ketchup or bold fusion flavours, there's certainly a fry for you.
These days, everyone's getting creative with their fries. Even a quick search will give you lots of recipe ideas — from the basic sides for picnics and backyard bbq parties, comfort food to new, unique combinations with cuisines all over the world. With their high-starch content, you'll easily get your fill of carbs and satisfy your appetite in every serving — the best way to enjoy every meal.
Canada's Favourite French Fry Recipes Based on Total Online Searches and Youtube Searches.
The average price of french fried potatoes is CA$3.07/kg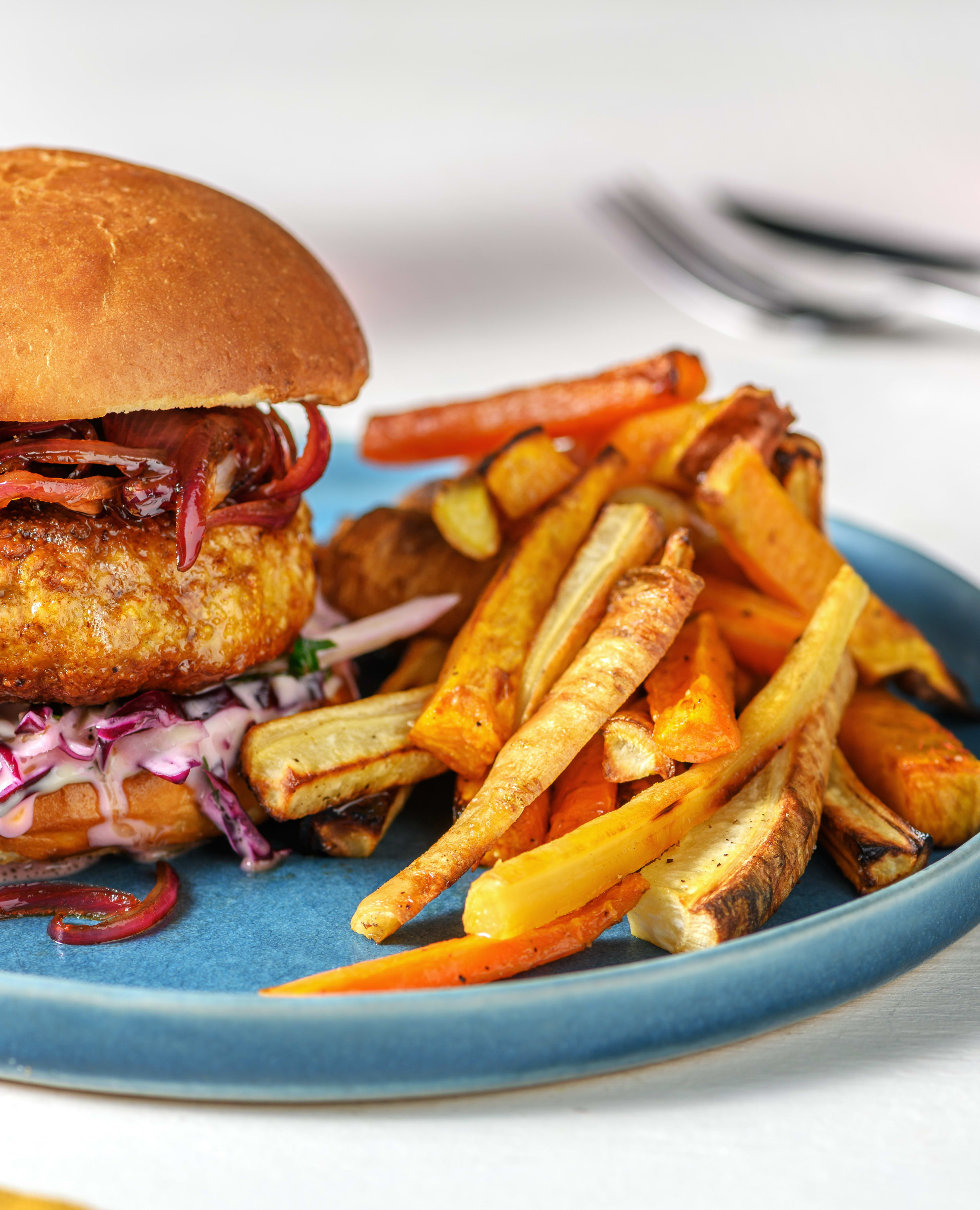 Delicious French Fry Recipes for Any Occasion
Whether you're craving comfort food, the perfect side to a hearty burger, or a healthier but just as indulgent alternative, there's a fry for you! The possibilities truly are endless with these light and crispy bites, deep-fried to golden brown perfection.
In the mood for something new? HelloFresh has all your fries cravings covered! Indulge in your favourite crispy potato treats with a new spin. And while fries are a classic, take a sneak peek into fun and fresh recipe ideas that take your favourite fries to a whole new level.
From wedges and chunky cuts, to garlic and parmesan-infused and home fries, there's a french fry recipe for you and for any occasion. Get frying and dressing up — or down — these crispy bites, whether for dinner at home, a plate to share, or a summer backyard bbq.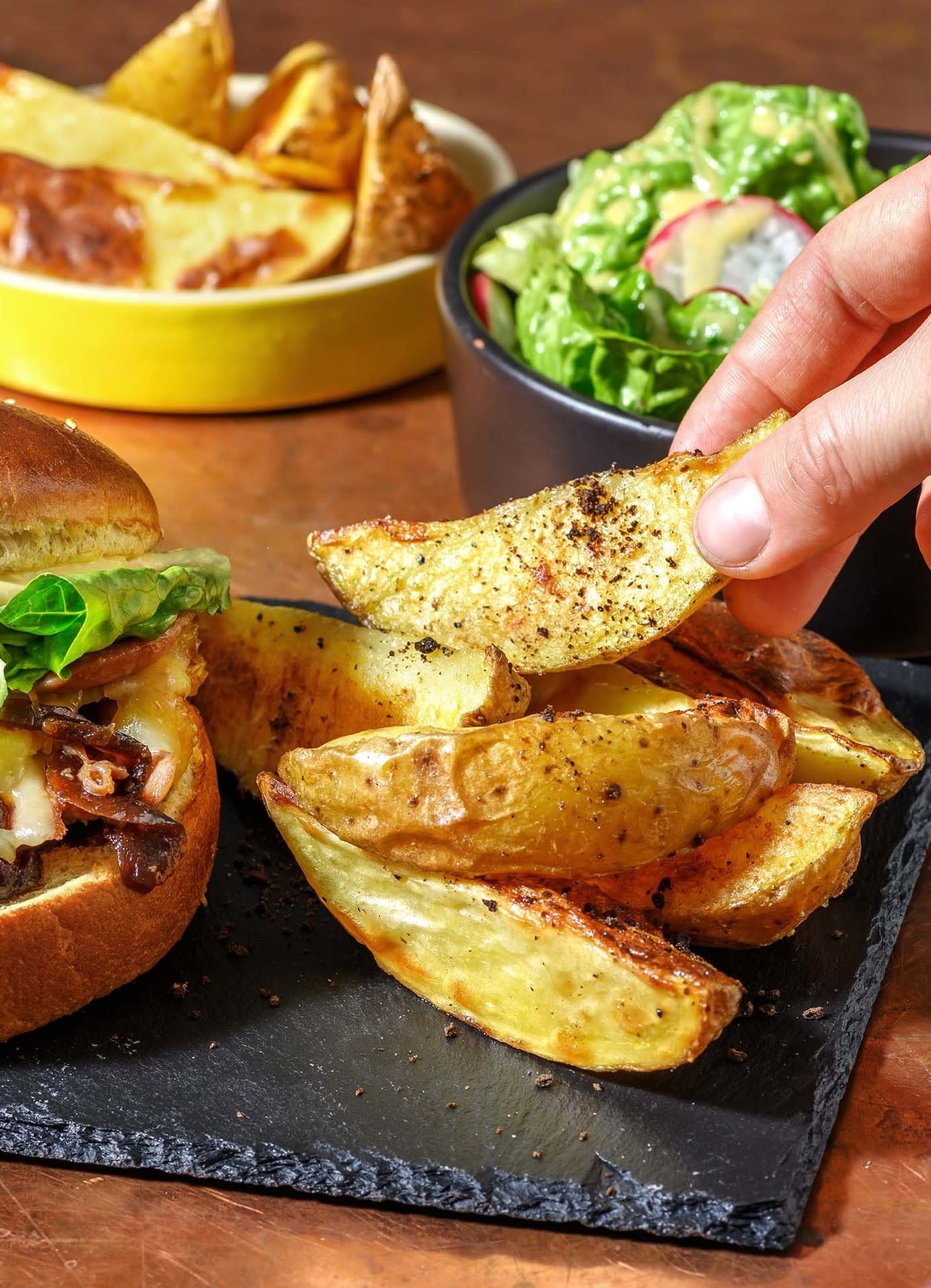 A Favourite Amongst all Ages
French fries may be universally beloved, but they're not all cut and cooked the same way. And thanks to their versatility, you'll never run out of new and exciting recipes to try. Different types of potatoes make different kinds of fries.
The most popular of the bunch is Russet potatoes: these standard potatoes make the classic fries you know and love. With the ideal balance of high starch and low water content, and a large size and consistent shape, they make a ton of fries that are easy to cut into long pieces that hold their shape well while frying. For extra crisp, keep the skin on.
Other french fries are made of Maris Piper potatoes — crispy on the outside, and soft and fluffy on the inside. There's also Yukon Gold, which balances both starch and wax, making them great for just about any recipe, from your classic fries to other potato dishes. And for the heart-healthy, there's the nutrient-rich sweet potato fries that pack a lot of vitamins with a refreshingly sweet taste. There you have it — french fries that are a sure hit for everyone and every taste, from little kids to adults!
Get Inspired by our French Fry Recipes!
Craving some comfort food or looking for the perfect side to burgers and steaks fresh off the grill? You'll never go wrong with classic fries. And if you're up for it, show your love for fries with a fresh, fun take with an all-new french fry recipe!
Discover more delicious potato recipes to try with HelloFresh.
Dig into this endless variety, from the classic cut to enjoy with ketchup or world-famous poutine, to flavoured crispy treats and thick, creamy wedges. With all these exciting recipes, you'll never get bored, and you'll satisfy your cravings every time.
Easy and delicious recipes
Check out more tasty recipes
Tips and Tricks to Make the Most Delicious Potato Recipes at Home
Easily one of the most versatile ingredients you can find, potatoes can be transformed into a wide range of tasty side dishes. Whether they've been scalloped, mashed, baked, fried, or tossed in a salad, you can happily eat potatoes every night of the week.
Potato recipes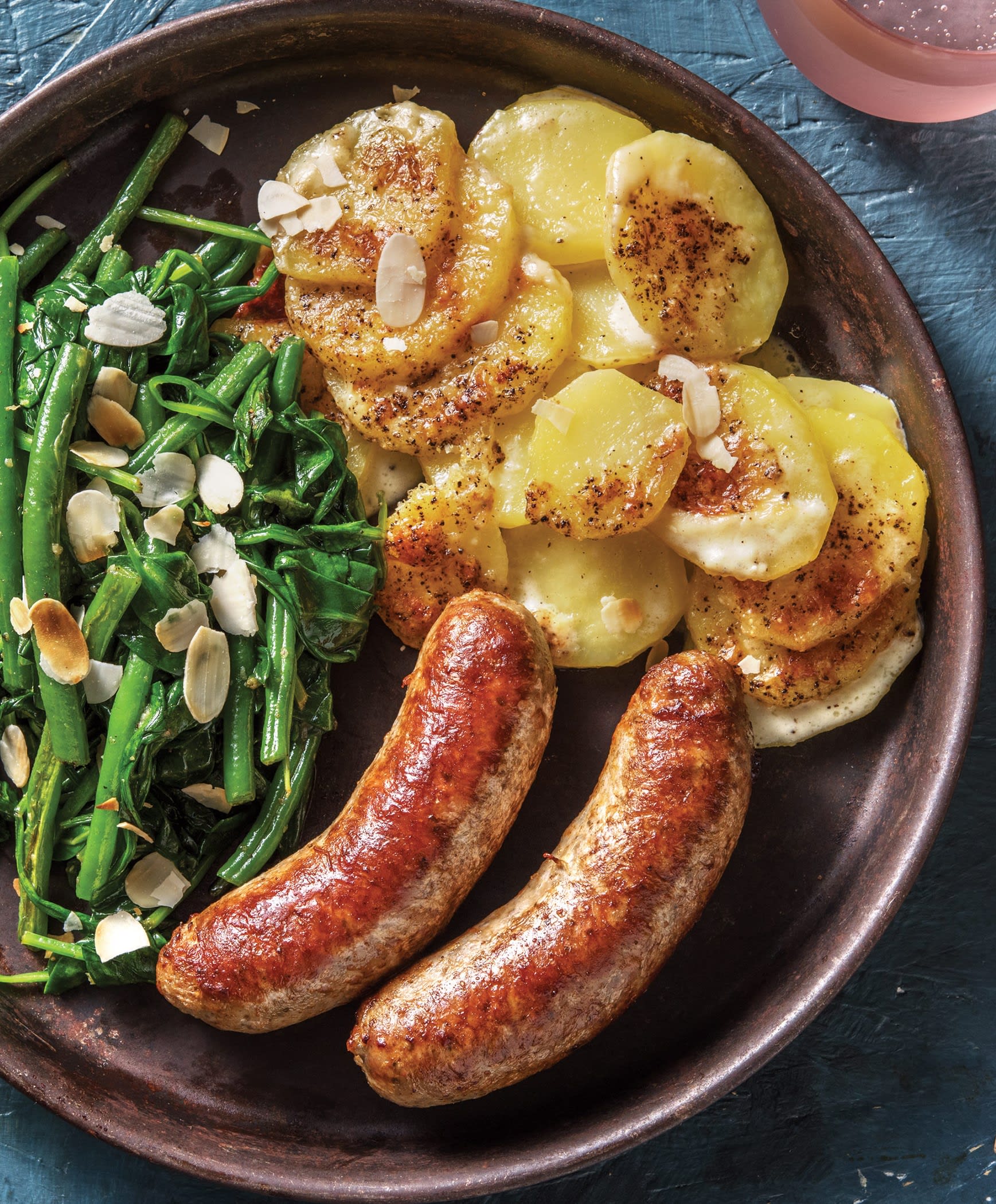 From the ultimate vegetarian potato recipes to family-friendly meals utilising potatoes, such as the humble chips, you can use this potato recipe hub to discover tasty potato dishes including scalloped potatoes, hasselback potatoes and dauphinoise potatoes. You'll be truly amazed how many recipes with potatoes there are.

The Ultimate Creamy, Rich and Indulgent Scalloped Potato Recipe
Whether for a family gathering, holiday feast, or as a side dish for a special date, scalloped potatoes can be a real showstopper if done right. First, let's get the basics out of the way. Classic scalloped potatoes consist of thinly sliced potatoes layered in a casserole dish and baked in rich heavy cream sauce. Sometimes the cream is infused with aromatics like garlic or herbs. The end result? Tender, golden-brown, bubbly potato heaven.
Tips for making the best scalloped potatoes:
Use yellow or red potatoes as they hold their structure better than russet potatoes
Thinly slice your potatoes to no more than ¼ inch (use a mandoline if you have one)
Make your cream sauce using a basic roux (butter and flour) then slowly add in heavy cream and infuse with garlic and thyme
Bake covered in a casserole dish for about an hour or until bubbling
You're probably thinking, "where's the cheese?" and we wouldn't blame you. Cheese can take most potato dishes to the next level, but it's actually the key difference between scalloped potatoes and potatoes au gratin. Traditional scalloped potatoes don't include cheese as an ingredient. If you ask us, we'd say throw tradition to the wind and include some shredded melty cheese in between layers of your scalloped potatoes. A sharp cheddar or gouda perhaps?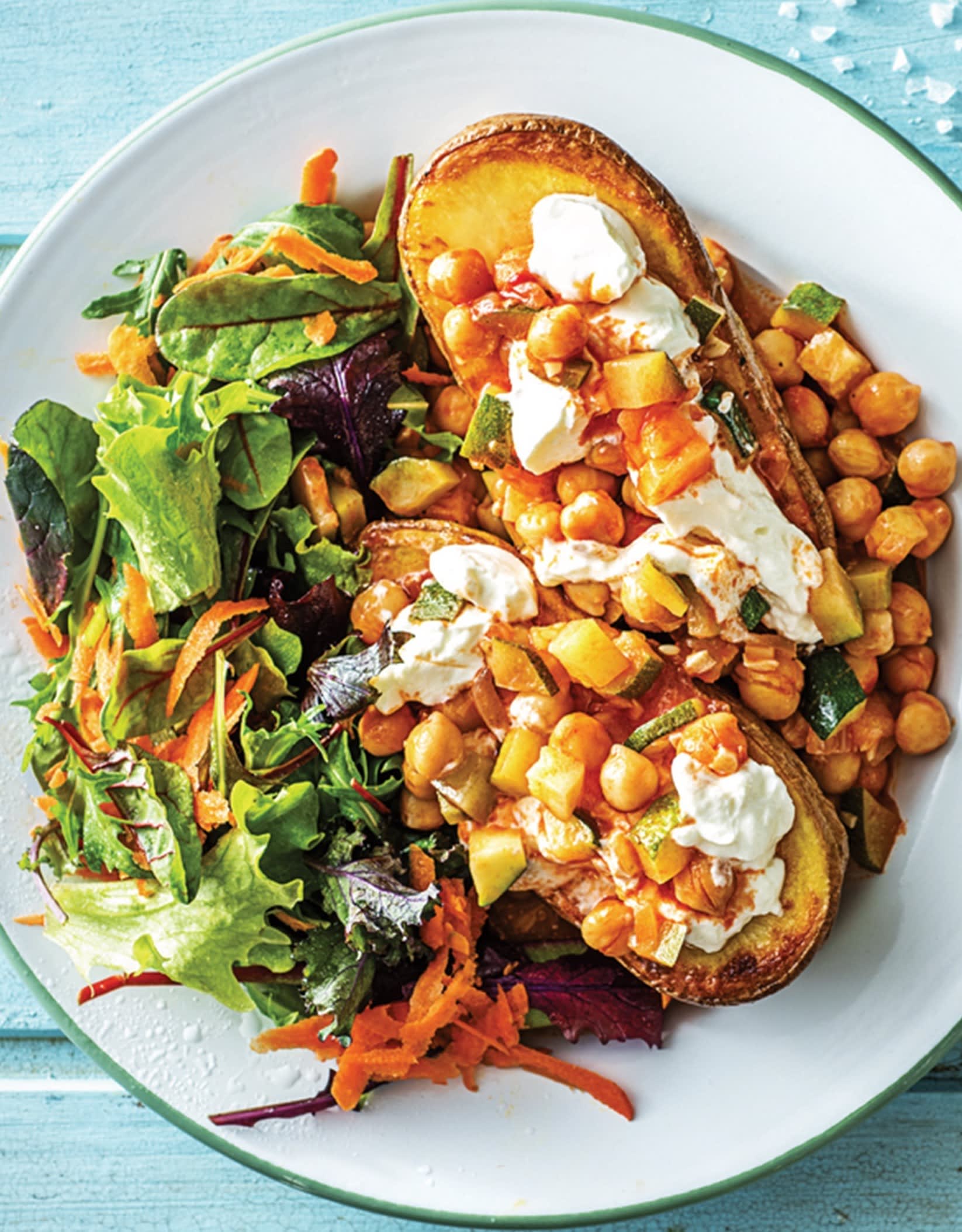 Baked Potato Recipe
How to cook a jacket potato to perfection
The humble baked potato is the perfect accompaniment to almost any meal. In its simplest form, a baked potato is flavourful and crisp on the outside and pillowy soft and fluffy on the inside. All you really need for a great baked potato is some firm russet potatoes, salt and pepper, and a little olive oil. Here's the method for a perfect baked potato in three simple steps:
Step 1: Preheat the oven to 170°C. Prick potatoes all over with a fork, rub with oil, and season with salt and pepper.
Step 2: Place the potatoes directly on your oven rack and bake for roughly 60 to 70 minutes.
Step 3: Cut open each potato; season with salt and pepper and top with your favourite toppings.
If you happen to have an instant read kitchen thermometer, the perfect doneness of a baked potato is 100°C when placed in the centre of the potato. If you don't have a thermometer, simple squeeze and make sure it's super soft.
For toppings, many people like to go all out with the fully loaded option, which can include sour cream, chives or green onion, bacon bits and shredded cheese. Although some people swear by just a little butter, and salt and pepper. Whatever you choose, your baked potato is sure to be delicious.
Get excited every evening!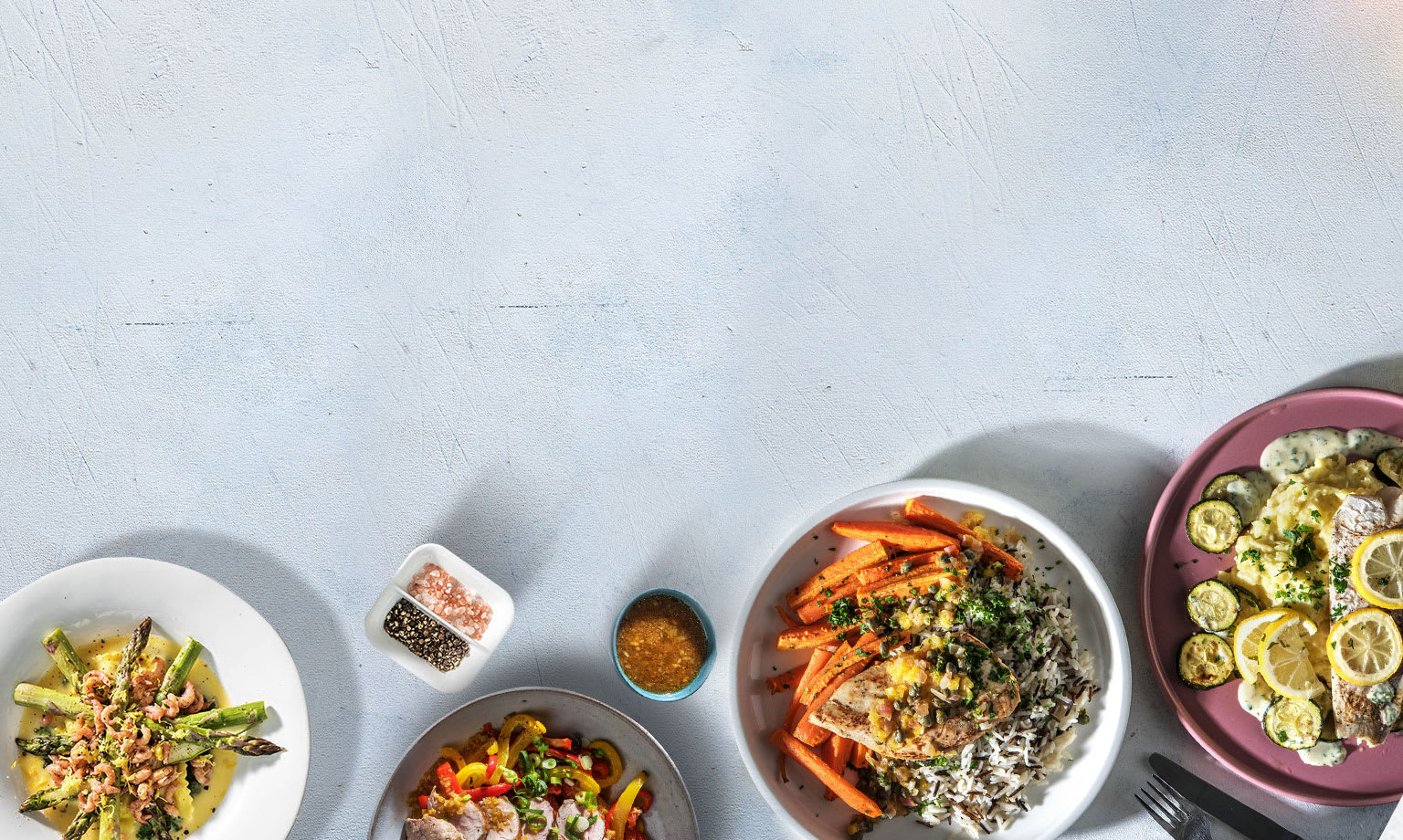 Recipes you'll love!
Get delicious recipes and all ingredients fresh on your doorstep every week!
Save up to $140