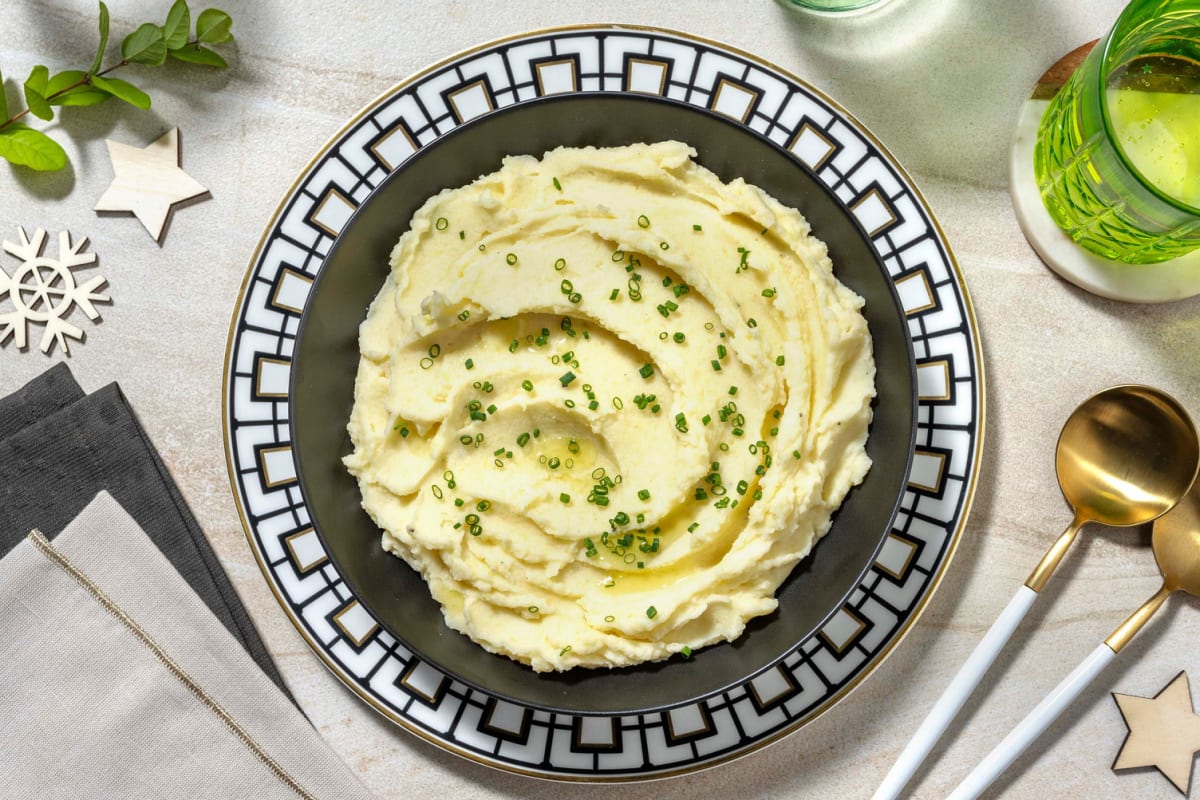 Roasted Garlic Mashed Potatoes
with Chives
The delicate flavour of roasted garlic imparts a subtle sweetness to these mashed potatoes, elevating this classic side dish. Delicious as is, but gravy volcanoes are always welcome!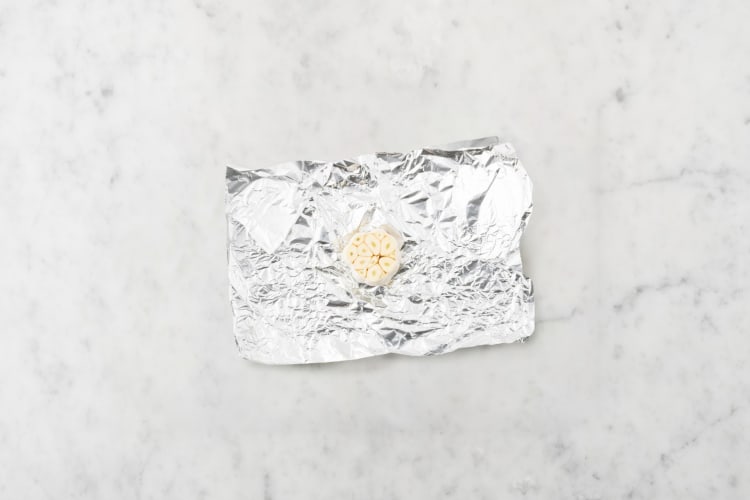 Before starting, preheat the oven to 425°F. Wash and dry all produce. Cut about ¼-inch off the top of garlic bulb, just enough to expose cloves. Arrange garlic bulb on a piece of foil, cut-side up. Drizzle 1/2 tsp oil over top, then wrap tightly with foil. Roast garlic bundle directly on the rack in the middle of the oven until fork-tender, 24-28 min. Set aside to cool. When garlic is cool enough to handle, squeeze garlic cloves out of their skins into a small bowl. Using a fork, mash garlic against the side of the bowl until mostly mashed. (TIP: There will still be some garlic fibers!)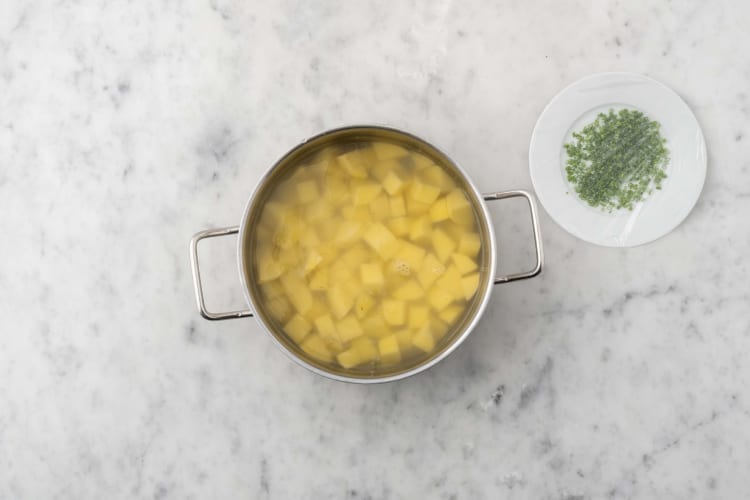 Meanwhile, peel, then cut potatoes into 1-inch pieces. Add potatoes, 1 tbsp salt and enough water to cover (by approx. 1 inch) to a large pot. Cover, then set aside. Thinly slice chives. Cover with plastic wrap, then set aside until ready to use. (NOTE: Sliced chives are also used in horseradish cream and glazed carrots.)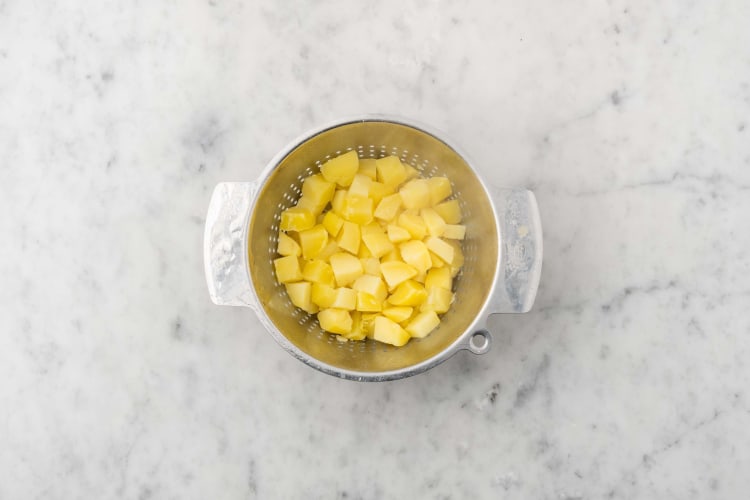 When beef goes into the oven, bring the covered pot of potatoes to a boil over high heat. Once boiling, reduce heat to medium-high. Simmer uncovered until fork-tender, 12-14 min. Drain potatoes in a colander.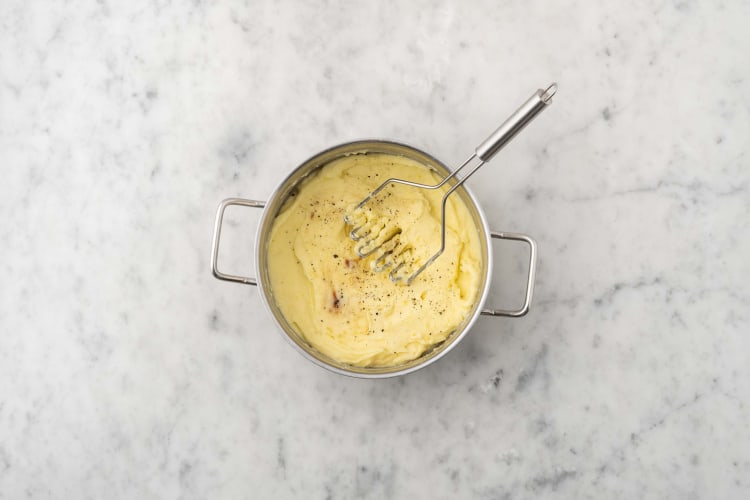 Add milk, roasted garlic and 6 tbsp butter to the same pot. Heat the pot over high, stirring occasionally, until butter melts. Remove the pot from heat, then add potatoes. Mash until creamy. Season with 1/2 tsp salt and pepper, to taste. Cover mashed potatoes and set aside, off heat, until ready to serve.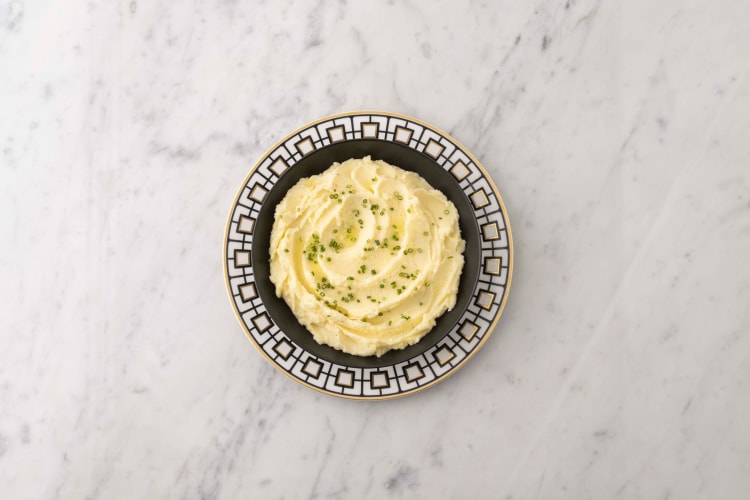 Transfer mashed potatoes to a serving bowl. Sprinkle 1 tbsp chives over top.