Go Green with HelloFresh!
HelloFresh is committed to preserving this earth, which produces the fresh ingredients in your boxes! We source from local suppliers whenever possible. By sending the exact amount of every ingredient in our recipes, we cut household food waste by more than 60%. From our humanely-raised chicken to our farm-fresh produce, HelloFresh strives to incorporate earth-friendly and green initiatives into our business practices.
After receiving your umpteenth HelloFresh box, not only will you have broadened your culinary repertoire, but you will also have built up an enviable collection of HelloFresh packaging. Once you have shown off your HelloFresh fort to friends and family, please recycle and help with our mission to become more sustainable and limit waste.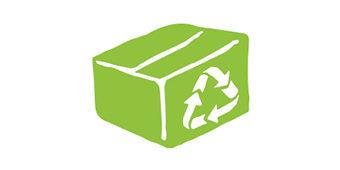 Paper-based packaging
Our boxes are 100% recyclable and are themselves made from post-consumer recycled fibers. Add these items to your blue box with other household recyclables (after some fort-building fun of course!).
Separator
You can recycle the cardboard separator with your other household recyclables.
Insulation
Our insulated silver box liners are made from FSC-certified sustainable cardboard. They can also go in with your household recycling… or make for great craft supplies!
Ice Packs
Our ice packs are filled with a non-toxic salt solution. You can re-use them for a picnic or in a lunch box. Once you're finished, let the ice packs melt, cut open the bags, pour the non-toxic solution down the drain (use warm water to dissolve any stubborn gel), and recycle the plastic casing. You can also return the packs through our recycling program. Email recycling@hellofresh.ca for more info.